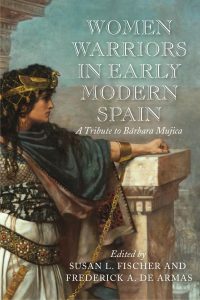 Editor(s)
Susan L. Fischer and Frederick A. de Armas
Hardback
June 2019 • ISBN 978-1-64453-015-3 • $75.00
Paperback
June 2019 • ISBN 978-1-64453-016-0 • $37.50
* E-Book Available
Order Online
Series
The Early Modern Exchange
Although scholars often depict early modern Spanish women as victims, history and fiction of the period are filled with examples of women who defended their God-given right to make their own decisions and to define their own identities. The essays in Women Warriors in Early Modern Spain examine many such examples, demonstrating how women battled the status quo, defended certain causes, challenged authority, and broke barriers. Such women did not necessarily engage in masculine pursuits, but often used cultural production and engaged in social subversion to exercise resistance in the home, in the convent, on stage, or at their writing desks.
Reviews of 'Women Warriors in Early Modern Spain: A Tribute to Bárbara Mujica'
"
Each of the essays in this volume adds a nuanced study of women as dramatic subjects, as actors and producers of theatre, as writers, and as subjects of biographical fiction…Each author makes a short nod to Bárbara Mujica and her indelible contribution to the fields of Spanish literature, theater, Teresian studies, and historical fiction, but they all go on to add their own contributions to these fields.
Any scholar, whether they be seasoned, or still in graduate school, will enjoy this book.
"
- Sarah Owens, College of Charleston, author of Women Navigating the Spanish Empire