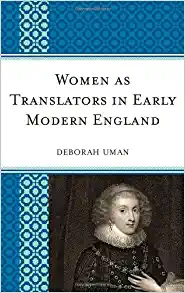 Author
Deborah Uman
Hardback
April 2012 • ISBN 978-1-64453-099-3 • $74.00
Paperback
December 2010 • ISBN 978-1-64453-100-6 • $42.00
* E-Book Available
Order Online
Women as Translators in Early Modern England offers a feminist theory of translation that considers both the practice and representation of translation in works penned by early modern women. It argues for the importance of such a theory in changing how we value women's work. Because of England's formal split from the Catholic Church and the concomitant elevation of the written vernacular, the early modern period presents a rich case study for such a theory. This era witnessed not only a keen interest in reviving the literary glories of the past, but also a growing commitment to humanist education, increasing literacy rates among women and laypeople, and emerging articulations of national sentiment. Moreover, the period saw a shift in views of authorship, in what it might mean for individuals to seek fame or profit through writing. Until relatively recently in early modern scholarship, women were understood as excluded from achieving authorial status for a number of reasons—their limited education, the belief that public writing was particularly scandalous for women, and the implicit rule that they should adhere to the holy trinity of "chastity, silence, and obedience."
While this view has changed significantly, women writers are still understood, however grudgingly, as marginal to the literary culture of the time. Fewer women than men wrote, they wrote less, and their "choice" of genres seems somewhat impoverished; add to this the debate over translation as a potential vehicle of literary expression and we can see why early modern women's writings are still undervalued. This book looks at how female translators represent themselves and their work, revealing a general pattern in which translation reflects the limitations women faced as writers while simultaneously giving them the opportunity to transcend these limitations. Indeed, translation gave women the chance to assume an authorial role, a role that by legal and cultural standards should have been denied to them, a role that gave them ownership of their words and the chance to achieve profit, fame, status and influence.
About the Author
Deborah Uman is Dean of Telitha E. Lindquist College of Arts & Humanities at Weber State.
Reviews of 'Women as Translators in Early Modern England'
"
Women as Translators in Early Modern England is a richly suggestive examination of the practice of translation as one of the ways women transcended cultural limitations and assumed an authorial role.
"
- Renaissance Quarterly