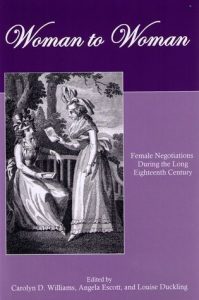 Editor(s)
Carolyn D. Williams, Angela Escott and Louise Duckling
Hardback
June 2010 • ISBN 978-1611491432 • $97.00
Order Online
Woman to Woman: Female Negotiations During the Long Eighteenth Century is a cross-disciplinary collection of essays drawing on hitherto unexplored archival material, showing how collaboration enabled eighteenth-century women to intervene in military and political affairs, achieve literary success, experience religious fulfilment, and engage in philanthropic projects. Communal female activity might be founded on kinship, shared religious experience, or common hardship. This study covers women from a very wide range of social backgrounds, including queens, aristocrats and country gentlewomen, daughters of clergymen and labourers, and prostitutes. The collection is in honor of Mary Waldron, a founding member of the Women's Studies Group, whose distinguished scholarship is exemplified in the first chapter, and whose generous encouragement of other specialists in feminist studies in the long eighteenth century is described in Isobel Grundy's Preface. Louise Duckling is an independent scholar living in Suffolk, England.
About the Editors
Angela Escott is a music librarian in London.
Carolyn D. Williams is a Senior Lecturer in the Department of English and American Literature at the University of Reading.