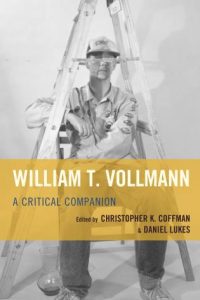 Editor(s)
Christopher K. Coffman and Daniel Lukes
Contributor(s)
Georg Bauer; Carla Bolte; Aaron Chandler; Heather Corcoran; John K. Cox; Okla Elliott; James Franco; Jonathan Franzen; Michael Glawogger; Mariya Gusev; Joshua Jensen; Priscilla Juvelis; Miles Liebtag; Larry McCaffery; Françoise Palleau-Papin; Melissa Petro; Jordan A. Rothacker; Bryan Santin; Geoffrey D. Smith; Mary Austin Speaker; Michael K. Walonen and Buell Wisner
Hardback
December 2014 • ISBN 978-1611495102 • $109.00
Paperback
July 2016 • ISBN 978-1611495256 • $46.99
* E-Book Available
Order Online
The essays in this collection make a case for regarding William T. Vollmann as the most ambitious, productive, and important living author in the US. His oeuvre not only includes outstanding work in numerous literary genres, but also global reportage, ethical treatises, paintings, photographs, and many other productions. His reputation as a daring traveler and his fascination with life on the margins have earned him an extra-literary renown unequaled in our time. Perhaps most importantly, his work is exceptional in relation to the literary moment. Vollmann is a member of a group of authors who are responding to the skeptical ironies of postmodernism with a reinvigoration of fiction's affective possibilities and moral sensibilities, but he stands out even among this cohort for his prioritization of moral engagement, historical awareness, and geopolitical scope. Included in this book in addition to twelve scholarly critical essays are reflections on Vollmann by many of his peers, confidantes, and collaborators, including Jonathan Franzen, James Franco, and Michael Glawogger. With a preface by Larry McCaffery and an afterword by Michael Hemmingson, this book offers readings of most of Vollmann's works, includes the first critical engagements with several key titles, and introduces a range of voices from international Vollmann scholarship.
About the Editors
Christopher K. Coffman is a lecturer in humanities at Boston University.
Daniel Lukes earned a PhD in comparative literature from New York University.