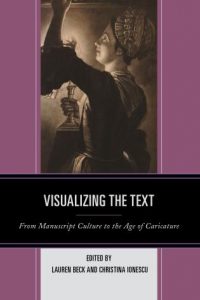 Editor(s)
Lauren Beck and Christina Ionescu
Hardback
May 2017 • ISBN 978-1-64453-027-6 • $110.00
Paperback
May 2017 • ISBN 978-1-64453-028-3 • $60.00
* E-Book Available
Order Online
This volume presents in-depth and contextualized analyses of a wealth of visual materials. These documents provide viewers with a mesmerizing and informative glimpse into how the early modern world was interpreted by image-makers and presented to viewers during a period that spans from manuscript culture to the age of caricature. The premise of this collection responds to a fundamental question: how are early modern texts, objects, and systems of knowledge imaged and consumed through bimodal, hybrid, or intermedial products that rely on both words and pictures to convey meaning? The twelve contributors to this collection go beyond traditional lines of inquiry into word-and-image interaction to deconstruct visual dynamics and politics—to show how images were shaped, manipulated, displayed, and distributed to represent the material world, to propagate official and commercial messages, to support religious practice and ideology, or to embody relations of power. These chapters are anchored in various theoretical and disciplinary points of departure, such as the history of collections and collecting, literary theory and criticism, the histories of science, art history and visual culture, word-and-image studies, as well as print culture and book illustration.
Authors draw upon a wide range of visual material hitherto insufficiently explored and placed in context, in some cases hidden in museums and archives, or previously assessed only from a disciplinary standpoint that favored either the image or the text but not both in relation to each other. They include manuscript illuminations representing compilers and collections, frontispieces and other accompanying plates published in catalogues and museographies, astronomical diagrams, mixed pictographic-alphabetic accounting documents, Spanish baroque paintings, illustrative frontispieces or series inspired by or designed for single novels or anthologies, anatomical drawings featured in encyclopedic publications, visual patterns of volcanic formations, engravings representing the New World that accompany non-fictional travelogues, commonplace books that interlace text and images, and graphic satire. Geographically, the collection covers imperial centers (Great Britain, France, the Netherlands, and Spain), as well as their colonial periphery (New France; Mexico; Central America; South America, in particular Brazil; parts of Africa; and the island of Ceylon). Emblematic and thought-provoking, these images are only fragments of the multifaceted and comprehensive visual mosaic created during the early modern period, but their consideration has far reaching implications.
About the Editors
Christina Ionescu is Associate Professor of French Studies at Mount Allison University.
Lauren Beck is Associate Professor of Hispanic Studies at Mount Allison University.
Reviews of 'Visualizing the Text: From Manuscript Culture to the Age of Caricature'
"
An impressive body of seminal scholarship, Visualizing the Text: From Manuscript Culture to the Age of Caricature is a truly exceptional collection of twelve insightfully informative, thoughtful and thought-provoking articles, and features illustrations, an informative introduction by Christina Ionescu, and a ten page index. Visualizing the Text is an unreservedly recommended and critically analytic contribution to college and university library Contemporary Literary Studies collections in general, and Visual Culture supplemental studies reading lists in particular.
"
- Midwest Book Review