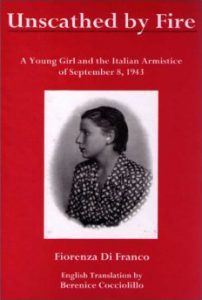 Told through the astonished eyes of a young girl, this book narrates the vicissitudes that Fiorenza Di Franco and her family lived through against the backdrop of a Hungary devastated by the tragic events of World War II. The book's title refers to a critical moment during the war when Italy signed an armistice with the Allied powers, thus ending its alliance with Germany. Fiorenza's father, an Italian diplomat stationed in Hungary, refused to adhere to the Fascist Italian Social Republic and was arrested by the Gestapo. He was deported to Mauthausen, where he shared the daily horrors of the Shoah with Jews and political prisoners like himself. In the meantime, Fiorenza, her brother, and her Hungarian Jewish mother lived through a series of concentration camps, escapes, and periods of time in hiding.
About the Author
Fiorenza Di Franco teaches European and American theater at John Cabot University.
About the Translator
Berenice Cocciolillo is Adjunct Assistant Professor of Italian at John Cabot University.