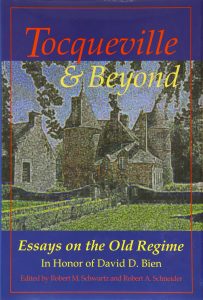 Editor(s)
Robert M. Schwartz and Robert A. Schneider
Hardback
October 2003 • ISBN 978-1611492330 • $100.00
Order Online
This collection of essays by French and American historians testifies to the enduring importance of Alexis de Tocqueville's The Old Regime and the French Revolution, first published in 1856. Highly original in its day and now recognized as a classic, The Old Regime has since the 1970s stimulated considerable research and improved our understanding of the French Old Regime. The essays in Tocqueville & Beyond join this trend, drawing on recent research to offer both an appreciation and critique of Tocqueville's remarkable work. Several contributors examine the theme of monarchical centralization and its supposed deleterious effect on political literacy in urban and rural settings, the central thrust of Tocqueville's interpretation. Others treat the nobility, another of his major themes, and several authors take up Tocqueville's critique of the Enlightenment and men of letters. From the wide-ranging perspectives of privileged nobles, men of letters, rural life, and the evolution of centralization and liberty in France as well as the Dutch Republic, these essays attest to the continuing significance of Tocqueville's classic study.
About the Editors
Robert M. Schwartz, Professor of History at Mount Holyoke College, teaches modern European history. He is the author of Policing the Poor in Eighteenth-Century France, which won the David Pinkney Prize from the Society for French Historical Studies.
Robert A. Schneider is Professor and Chair of history at the Catholic University of America. He is the author of Public Life in Toulouse, 1463-1789: From Municipal Republic to Cosmopolitan City and The Ceremonial City.