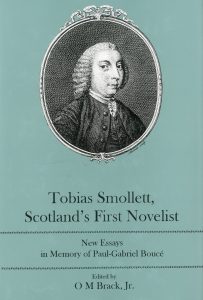 Editor(s)
O M Brack, Jr.
Hardback
October 2007 • ISBN 978-1611493252 • $109.00
Order Online
This collection takes a fresh look at issues raised not only in Smollett's novels, for which he is usually remembered, but also in other works of this prolific Scottish author. Essays include a demonstration beyond reasonable doubt, after more than two centuries of debate, that it was indeed Smollett who authored "The Memoires of a Lady of Quality" in the Adventures of Peregrine Pickle, with material supplied to him by Frances, Lady Vane; an examination of Smollett's contributions in the Adventures of Ferdinand Count Fathom to the rise of the Gothic novel; an analysis of the role his An Essay on the External Use of Water (1752) played in the conception of his last novel, the Expedition of Humphrey Clinker; and an exploration of the relationship between satire and graphic art in History and Adventures of an Atom. There is also a thorough review and re-evaluation of Smollett's encounter with Laurence Sterne in the south of France, and the exchange between Yorick and Smelfungus, "one of the great fictional encounters in English literature"; a canvassing of the details of Smollett's "Paper War" with Henry Fielding; and two essays on Smollett's undeservedly neglected History of England, one addressing the complicated relationships between Smollett's and David Hume's History of England; the second distinguishing for the first time the authoritative editions of the History and providing a descriptive bibliography.
About the Editor
O M Brack, Jr. is Professor of English at Arizona State University.