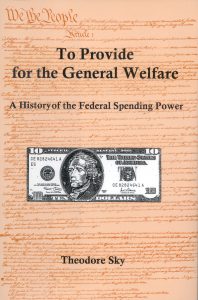 Author
Theodore Sky
Paperback
September 2008 • ISBN 978-1611491197 • $54.99
Order Online
To Provide for the General Welfare traces the course of the constitutional controversy over the spending power and the role of that power in driving an expansion in federal activity and authority from 1787 forward. Since the founding of the Republic, American statesmen have seen the federal government as a fitting source of tax dollars to finance national improvement and growth, but for decades the constitutional authority for this funding was the subject of fierce and bitter controversy. Some, like Alexander Hamilton, read the Constitution as granting authority to Congress to spend for these purposes. Others, like James Madison and Thomas Jefferson, believed that a constitutional amendment was necessary to confer this authority. The true scope of the constitutional authority given to Congress to levy taxes to provide for the "general welfare of the United States" was a prominent political and legal issue until the Civil War and was not resolved by the Supreme Court until the 1930s.
This book documents how Americans came to read their Constitution to help them improve their roads, schools, colleges, cultural institutions, and health care, and to provide themselves with social insurance and safety-net programs for the vulnerable. The book will contribute better understanding of the critically important spending power and its potential in helping us confront our most difficult twenty-first-century challenges, as well as a better appreciation of its significance in contemporary constitutional thought. With the basic constitutional issue put to rest, the prudent and effective exercise of that power should have a positive impact on the resolution of the many grave problems that Americans are confronting now and will continue to confront in the years ahead.
About the Author
Theodore Sky is distinguished lecturer at Columbus School of Law, The Catholic University of America.