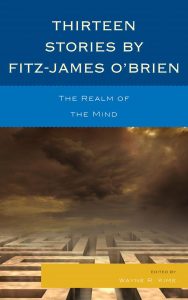 Author
Fitz-James O'Brien
Editor(s)
Wayne R. Kime
Hardback
May 2012 • ISBN 978-1611494020 • $82.00
* E-Book Available
Order Online
This volume forms part of a continuing initiative by Wayne R. Kime to make available the writings of Fitz-James O'Brien (1828-1862), an Irish-American literary man who during his lifetime won reputation as one of the most talented young authors in the United States, but who has been all but forgotten since. It follows Fitz-James O'Brien: Selected Literary Journalism, 1852-1860 (Susquehanna University Press, 2003) and Behind the Curtain: Selected Fiction of Fitz-James O'Brien (University of Delaware Press and Rowman & Littlefield, 2011), both edited by Kime. Like its predecessors, the volume offers evidence that "not only for his vivid contemporaneity but also for his originality, range, and technical skill" ( Fitz-James O'Brien: Selected Literary Journalism, 10), O'Brien's claim to lasting memory was well justified.
Thirteen Stories by Fitz-James O'Brien: The Realm of Mind presents a group of works that explore one of the author's special interests, the representation of individual consciousness. All but three of the stories are reprinted here for the first time. The works are arranged chronologically, by date of publication, under five headings: Expanded Faculties ("The Old Boy," "The Spider's Eye," "Seeing the World"), Induced Visions ("The Hasheesh Eater," "Broadway Bedeviled"), New Knowledge ("Mr. Grubbe's Night with Memnon," "The Golden Ingot," "How I Overcame My Gravity"), Love and Hate ("Number 101," "Jubal, the Ringer"), and Dreams ("A Terrible Night," "The Crystal Bell," "From Hand to Mouth").
A general introduction, brief introductions to the individual stories, and explanatory notes complement the reprinted texts. The volume has been designed to appeal to both general and specialist readers.
About the Editor
Wayne R. Kime taught English at the University of Delaware, the University of Toronto, and Fairmont State University, West Virginia. He has published widely in his chief fields of interest, American literature and American history.