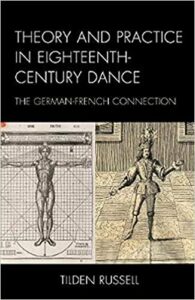 This book is about the intersection of two evolving dance-historical realms—theory and practice—during the first two decades of the eighteenth century. France was the source of works on notation, choreography, and repertoire that dominated European dance practice until the 1780s. While these French inventions were welcomed and used in Germany, German dance writers responded by producing an important body of work on dance theory. This book examines consequences in Germany of this asymmetrical confrontation of dance perspectives.
Between 1703 and 1717 in Germany, a coherent theory of dance was postulated that called itself dance theory, comprehended why it was a theory, and clearly, rationally distinguished itself from practice. This flowering of dance-theoretical writing was contemporaneous with the appearance of Beauchamps-Feuillet notation in the Chorégraphie of Raoul Auger Feuillet (Paris, 1700, 1701). Beauchamps-Feuillet notation was the ideal written representation of the dance style known as la belle danse and practiced in both the ballroom and the theater. Its publication enabled the spread of belle danse to the French provinces and internationally. This spread encouraged the publication of new practical works (manuals, choreographies, recueils) on how to make steps and how to dance current dances, as well as of new dance treatises, in different languages.
The Rechtschaffener Tantzmeister, by Gottfried Taubert (Leipzig, 1717), includes a translated edition of Feuillet's Chorégraphie. Theory and Practice in Eighteenth-Century Dance addresses how Taubert and his contemporary German authors of dance treatises (Samuel Rudolph Behr, Johann Pasch, Louis Bonin) became familiar with Beauchamps-Feuillet notation and acknowledged the Chorégraphie in their own work, and how Taubert's translation of the Chorégraphie spread its influence northward and eastward in Europe. This book also examines the personal and literary interrelationships between the German writers on dance between 1703 and 1717 and their invention of a theoria of dance as a counterbalance to dance praxis, comparing their dance-theoretical ideas with those of John Weaver in England, and assimilating them all in a cohesive and inclusive description of dance theory in Europe by 1721.
About the Author
Tilden Russell is Professor Emeritus of Music at Southern Connecticut State University.
Reviews of 'Theory and Practice in Eighteenth-Century Dance: The German-French Connection'
"
While a number of scholars have studied memory in this period, Russell's in-depth study of three principal sixteenth-century French authors provides a significant contribution to the field. Russell combines a variety of perspectives—psychological, historical, and theoretical—to make for a solid, learned, and engaging read.
"
- Renaissance Quarterly