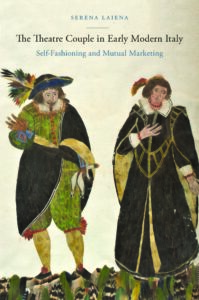 Author
Serena Laiena
Hardback
December 2023 • ISBN 9781644533161 • $163.00
Paperback
December 2023 • ISBN 9781644533154 • $52.95
* E-Book Available
Order Online
Series
Performing Celebrity
Who were the first celebrity couples? How was their success forged? Which forces influenced their self-fashioning and marketing strategies?
These questions are at the core of this study, which looks at the birth of a phenomenon, that of the couple in the show business, with a focus on the promotional strategies devised by two professional performers: Giovan Battista Andreini (1576-1654) and Virginia Ramponi (1583-ca.1631). This book examines their artistic path – a deliberately crafted and mutually beneficial joint career – and links it to the historical, social, and cultural context of post-Tridentine Italy.
Rooted in a broad research field, encompassing theatre history, Italian studies, celebrity studies, gender studies, and performance studies, The Theatre Couple in Early Modern Italy revises the conventional view of the Italian diva, investigates the deployment of Catholic devotion as a marketing tool, and argues for the importance of the couple system in the history of Commedia dell'Arte, a system that continues to shape celebrity today.
About the Author
Serena Laiena is an Irish Research Council Postdoctoral Fellow at University College Dublin. She has published essays and articles on Commedia dell'Arte and early modern actresses. Her research interests include the social history of theatre in the sixteenth and seventeenth centuries, women's agency in early modern Europe, and the social function of theatre today.