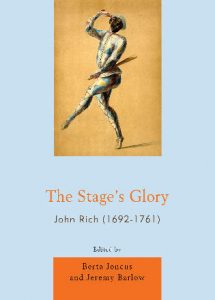 Editor(s)
Berta Joncus and Jeremy Barlow
Contributor(s)
Olive Baldwin; Jeremy Barlow; Donald Burrows; Al Coppola; Moira Goff; Robert D. Hume; David Hunter; Terry Jenkins; Berta Joncus; Matthew J. Kinservik; Ana Martínez; Judith Milhous; Felicity Nussbaum; Marcus Risdell; Fiona Ritchie; Vanessa Rogers; Robin Simon; Jennifer Thorp; Linda J. Tomko; Thelma Wilson
Hardback
May 2011 • ISBN 978-1-64453-123-5 • $90.00
Paperback
May 2011 • ISBN 978-1-64453-124-2 • $48.00
* E-Book Available
Order Online
John Rich (1692-1761) was a profoundly influential figure of the eighteenth-century London stage. As producer, manager, and performer, he transformed the urban entertainment market, creating genres and promotional methods still with us today. This volume gives the first comprehensive overview of Rich's multifaceted career, appreciation of which has suffered from his performing identity as Lun, London's most celebrated Harlequin. Far from the lightweight buffoon that this stereotype has suggested, Rich—the first producer of The Beggar's Opera, the founder of Covent Garden, the dauntless backer of Handel, and the promoter of the principal dancers from the Parisian opera—is revealed as an agent of changes much more enduring than those of his younger contemporary, David Garrick. Contributions by leading scholars from a range of disciplines—theatre, dance, music, art, and cultural history—provide detailed analyses of Rich's productions and representations. These findings complement Robert D. Hume's lead article, a study that radically alters our perception of Rich.
About the Editors
Berta Joncus is a lecturer in music at Goldsmiths, University of London, and a research associate of the Faculty of Music, University of Oxford.
Jeremy Barlow is author of The Enraged Musician: Hogarth's Musical Imagery, and The Music of John Gay's The Beggar's Opera.
Reviews of '"The Stage's Glory": John Rich (1692–1761)'
"
Any theater historian or production group tackling 18th-century dramatic literature will find this book a must-have because it looks at the theater process as a whole as it existed in situ. This is a great resource.
"
- Choice