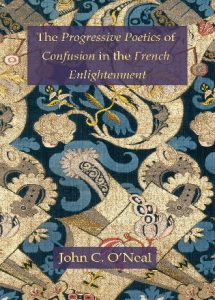 Author
John C. O'Neal
Hardback
March 2011 • ISBN 978-1611490244 • $92.00
Order Online
In The Progressive Poetics of Confusion in the French Enlightenment, John C. O'Neal draws largely on the etymological meaning of the word confusion as the action of mixing or blending in order to trace the development of this project which, he claims, aimed to reject dogmatic thinking in all of its forms and recognized the need to embrace complexity. Eighteenth-century thinkers used the notion of confusion in a progressive way to reorganize social classes, literary forms, metaphysical substances, scientific methods, and cultural categories such as taste and gender.
In this new work, O'Neal explores some of the paradoxes of the Enlightenment's theories of knowledge. Each of the chapters in this book attempts to address the questions raised by the eighteenth century's particular approach to confusion as a paradoxical reorganizing principle for the period's progressive agenda. Perhaps the most paradoxical thinker of his times, Diderot occupies a central place in this study of confusion. Other authors include Marivaux, Crébillon, Voltaire, and Pinel, among others. Rousseau and Sade serve as counterexamples to this kind of enlightenment but ultimately do not so much oppose the period's poetics of confusion as they complement it. The final chapter on Sade combines contemporary discussions of politics, society, culture, philosophy, and science in an encyclopedic way that at once reflects the entire period's tendencies and establishes important differences between Sade's thinking and that of the mainstream philosophes. Ultimately, confusion serves, O'Neal argues, as an overarching positive notion for the Enlightenment and its progressive ideals.
About the Author
John C. O'Neal is professor of French at Hamilton College in Clinton, New York. He is the author of Seeing and Observing: Rousseau's Rhetoric of Perception (1985), The Authority of Experience: Sensationist Theory in the French Enlightenment (1996), and Changing Minds: The Shifting Perception of Culture in Eighteenth-Century France (2002).