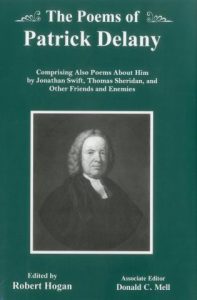 Editor(s)
Robert Hogan and Donald C. Mell
Hardback
June 2006 • ISBN 978-0874139389 • $82.00
Order Online
Patrick Delany (1685/6-1768) was a poet who occupied a prominent place in Swift's circle of Irish wits. This edition attempts to gather all of his extant verse, including minor or trivial pieces. His poems occasioned responses or were themselves responses to other poems. This edition prints these interacting poems together for example those concerned with Dan Jackson's nose; the controversial exchanges provoked by Delany's infamous petition to Lord Carteret and the fallout they produced, and the Pheasant and Lark group. Poems by and about Delany are arranged chronologically to clarify and make sense of Delany's poems and to highlight their artistic merit and integrity. The annotated introduction and biographical index provide historical and cultural context. The poems are prefaced by brief commentary that explains the circumstances of their composition and are followed by a list of previous appearances and explanatory notes and commentary. Spelling is in line with modern American practices. Punctuation, syntax, and syllabification remain close to Delany's principal prose writings.
About the Editors
The late Robert Hogan published widely on drama and on Irish literature.
Donald C. Mell is Professor of English at the University of Delaware.