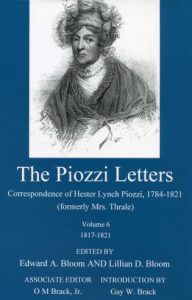 Editor(s)
Edward A. Bloom and Lillian D. Bloom, Associate Editor: O M Brack, Jr.
Hardback
December 2002 • ISBN 978-0874133950 • $133.00
Order Online
The letters in this volume record the last years of Mrs. Piozzi's life. Her correspondence from 1817 to 1821 reads like extensions of her private journals and may be seen as affirmations of hope and ambition as well as declarations of frustration, grief, anger, and self-pity. Illustrated.