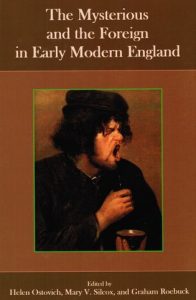 Editor(s)
Helen Ostovich, Mary V. Silcox and Graham Roebuck
Hardback
April 2008 • ISBN 978-1611493009 • $104.00
Order Online
This collection of original essays explores the great quests and questions into the unknown that occupied and troubled the early modern world. The topics addressed are in many cases hitherto untouched by modern scholarship. Writings examined include canonical texts of early modern literature and other less familiar works engaged in the transcultural exchanges of their times. Themes range from mathematics to confessional exile, to the potency of goods and commerce, to imaginings of the most remote, exotic, and dangerous locations: topics of ever-increasing interest. The overarching construction of the collection is provided by a full, historical and critical introduction, and by a tripartite division of essays into travel, commerce, and the domestication of the foreign. Strikingly illustrated with Renaissance art and woodcuts, it is rounded out with a full index of names, ideas, and themes, making it accessible to scholars and readers with a thirst for the real mysteries of our past.
About the Editors
Helen Ostovich teaches early modern drama in the Department of English and Cultural Studies at McMaster University.
Graham Roebuck is Professor Emeritus at McMaster University.
Mary V. Silcox is Professor of English at McMaster University.