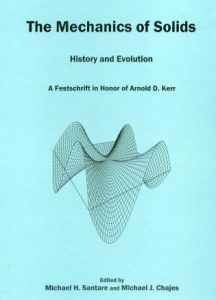 Editor(s)
Michael H. Santare and Michael J. Chajes
Hardback
April 2008 • ISBN 978-0874139914 • $104.00
Order Online
This book is an outgrowth of a 2004 symposium held at the University of Delaware in honor of Dr. Kerr's retirement after a thirty-year career at the university. It includes a biography and publications list of Arnold D. Kerr, as well as twelve papers on various topics including contact mechanics, nondestructive evaluation of structures, ice mechanics, stability of structures, engineering of railway tracks and concrete pavements, sandwich structures, biomechanics and biomaterials, fracture and dislocation mechanics, carbon nanotechnology, and applied mathematics.
About the Editors
Michael H. Santare is a Professor in the Department of Mechanical Engineering at the University of Delaware.
Michael J. Chajes is a Professor and Chair of Civil and Environmental Engineering at the University of Delaware.