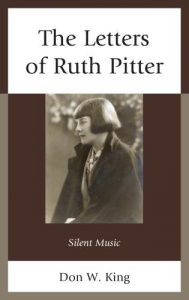 Author
Don W. King
Hardback
March 2014 • ISBN 978-1611494518 • $144.00
* E-Book Available
Order Online
Although Ruth Pitter (1897–1992) is not well known, her credentials as a poet are extensive, and in England from the mid-1930s to the mid-1970s she maintained a modest yet loyal readership. In total she produced eighteen volumes of new and collected verse. Her A Trophy of Arms (1936) won the Hawthornden Prize for Poetry in 1937, and in 1954 she was awarded the William E. Heinemann Award for The Ermine (1953). Most notably, perhaps, she became the first woman to receive the Queen's Gold Medal for Poetry in 1955. Furthermore, from 1946 to 1972 she was often a guest on BBC radio and television programs, In 1974 The Royal Society of Literature elected her to its highest honor, a Companion of Literature, and in 1979 she received her last national award when she was appointed a Commander of the British Empire.
Pitter was a voluminous letter writer. Her friends and correspondents read like a "Who's Who" of twentieth-century British literary luminaries, including AE (George Russell), A. R. Orage, Hiliare Belloc, Walter de la Mare, Julian Huxley, John Masefield, Phillip and Ottoline Morrell, George Orwell, Dylan Thomas, T. S. Eliot, C. S. Lewis, James Stephens, Dorothy L. Sayers, Siegfried Sassoon, Virginia Sackville-West, Dorothy Wellesley, Lord David Cecil, John Betjeman, Evelyn Waugh, John Wain, Kathleen Raine, and May Sarton. Stylistically Pitter's letters are marked by crisp prose, precise imagery, and elegant simplicity reflecting a well-read and vigorous mind—lithe, curious, penetrating, analytical, and perceptive. Of more her more than one thousand letters covering the years 1908-1988, I publish here a generous selection. I believe these selected letters go a long way toward illustrating Pitter's desire to reach a public interested in her as both a poet and personal commentator. These letters offer an understanding of "the silent music, the dance in stillness, the hints and echoes and messages of which everything is full" reflected in her life and poetry. In total they provide an essential introduction to the work of this neglected twentieth-century poet.
About the Author
Don W. King is professor of English at Montreat College.