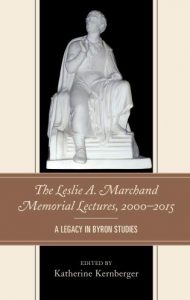 Editor(s)
Katherine Kernberger
Hardback
September 2017 • ISBN 978-1611496673 • $90.00
* E-Book Available
Order Online
This unique collection of lectures honors the pioneering work in Byron studies of Leslie Alexis Marchand, who has had an enduring influence on the appreciation and study of Lord Byron for sixty years. Generations of readers and writers have come to Byron through Marchand's biographies and his edition of the poet's letters and journals. All admirers of Byron respond to the verve, dash, and immediacy of his correspondence, which lies at the heart of Marchand's biographies and offers us a portrait based on the poet's views of himself and his times. No one has so powerfully and judiciously allowed Byron's life to emerge from the testimony of his letters. This collection pays tribute to Marchand's careful scholarship and scrupulous attention to the limits of interpretation.
Marchand's continued relevance to Byron studies derives in part from the work undertaken by those inspired by his labors as editor and interpreter, many of whom are represented in this collection. Three opening essays bear personal witness to his fervent support for young scholars, his depth of expertise and appeal as a teacher, and his commitment to encouraging others to join him on his Byron pilgrimage. The lectures given in his honor themselves represent such diverse disciplines as literary theory, psychiatry, publishing history, comparative literature, drama, political history, revolutionary politics in literature and music, literary criticism, textual editing and selection, and literary influence. A chronology and a bibliography provide an overview of Marchand's life and scholarship.
About the Editor
Katherine Kernberger is professor emerita of English at Linfield College.