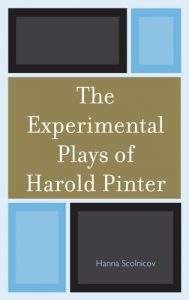 Author
Hanna Scolnicov
Hardback
June 2012 • ISBN 978-1611493504 • $86.00
Order Online
The Experimental Plays of Harold Pinter offers a fresh approach to the plays of Nobel Prize laureate Harold Pinter. He is highlighted as an experimental playwright who attempted to free the theatre from the legacy of realism, causality and motivation. His plays are read in relation to the avant-garde movements in the visual arts and music that flourished in the twentieth century.
Scolnicov's new interdisciplinary perspective sets Pinter's dramatic works against a background of the other arts and yields new insights into the themes and structure of the plays, underlining their evolving innovativeness. Such an approach has not been attempted to date, and Pinter's plays are usually discussed in the context of their contemporary drama and theatre. This shift of interpretive focus requires a radical change in the acting technique called for by Pinter's plays. The intermedial reading offered in the book also carries wider implications for the development of theatre studies.
Twentieth-century dramatic criticism has lagged behind art criticism and has not been quick enough to develop adequate tools for the analysis of Pinter's experiments with theatrical form. Scolnicov borrows from the ideas of different contemporary art movements, such as hyperrealism, surrealism, abstract expressionism, minimalism, conceptual art, and abstract art to better understand his work. Pinter also adapted techniques from music, film, and literature, constantly re-defining the limits of dramatic art and theatre in his plays.
About the Author
Hanna Scolnicov is professor of Theatre Studies and former head of the School of Graduate Studies of the Faculty of Arts at Tel-Aviv University, and a Life Member of Clare Hall, Cambridge.