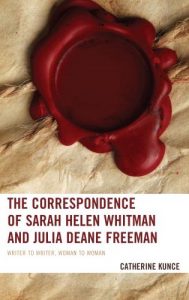 Author
Catherine Kunce
Hardback
November 2013 • ISBN 978-1611494389 • $86.00
* E-Book Available
Order Online
The eighty-one manuscript letters, drafts, notes, and fragments comprising the correspondence between Sarah Helen Whitman (Poe's onetime fiancée) and Julia Deane Freeman span a tumultuous time in American history, 1856–1863. A veritable Who's Who in literature during the period, the women's letters reference works and writers such as Emerson, Hawthorne, Poe, Walt Whitman, and scores of women writers such as Margaret Fuller, Paulina Davis, Elizabeth Oakes Smith, Susan Warner, Julia Ward Howe, and E.D.E.N. Southworth. Comparing prominent publishers, critiquing famous journalists, discussing current events—including the impending Civil War, slavery, the spread of Spiritualism, the rising consciousness of women's rights, and the prevailing tastes in theater, music, and art—the correspondence exposes an untapped vein of historical riches.
Yet the letters offer more than a compendium of literary works and historical events. When viewed through the lens of contemporary critical theories, the letters shimmer with significance. The Whitman/Freeman correspondence witnesses the growth of a profound friendship, the genesis and development of which parallels, to a startling degree, Whitman's affair with Poe. The letters additionally support, and in some instances, complicate, contemporary scholars' perspectives regarding issues related to women. While scholars have rescued many nineteenth-century women writers from unmerited obscurity, Whitman and Freeman recount in "real time" their assessment of contemporary women writers.
A well-informed abolitionist who bequeathed a portion of her estate to a black orphanage, Whitman has much to say about political viewpoints, both national and local, during a time that denied women the right to vote. How Whitman negotiates society's strictures and her iconoclastic self-expression deserves careful study in itself. Well crafted and thoroughly engaging, the previously unpublished correspondence between Sarah Helen Whitman and Julia Deane Freeman provides scholars of numerous disciplines with fresh and fascinating material.
About the Author
Catherine Kunce is senior instructor for the Program for Writing and Rhetoric at the University of Colorado Boulder.