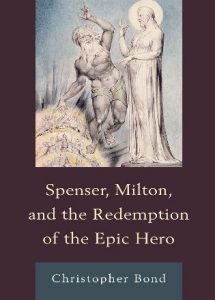 Author
Christopher Bond
Paperback
April 2011 • ISBN 978-1-64453-130-3 • $43.99
* E-Book Available
Order Online
This book studies the interplay of theology and poetics in the three great epics of early-modern England: the Faerie Queene, Paradise Lost, and Paradise Regained. Bond examines the relationship between the poems' primary heroes, Arthur and the Son, who are godlike, virtuous, and powerful, and the secondary heroes, Redcrosse and Adam, who are human, fallible, and weak. He looks back at the development of this pattern of dual heroism in classical, Medieval, and Italian Renaissance literature, investigates the ways in which Spenser and Milton adapted the model, and demonstrates how the Jesus of Paradise Regained can be seen as the culmination of this tradition. Challenging the opposition between "Calvinist," "allegorical" Spenser and "Arminian," "dramatic" Milton, this book offers a new account of their doctrinal and literary affinities within the European epic tradition. Arguing that Spenser influenced Milton in fundamental ways, Bond establishes a firmer structural and thematic link between the two authors, and shows how they transformed a strongly antifeminist genre by the addition of a crucial, although at times ambivalent, heroine. He also proposes solutions to some of the most difficult and controversial theological cruxes posed by these poems, in particular Spenser's attitude to free will and Milton's to the Trinity. By providing a deeper understanding of the religious agendas of these epics, this book encourages a rapprochement between scholarly approaches that are too narrowly concerned with either theology or poetics.
About the Author
Christopher Bond was an A. Bartlett Giamatti Fellow. Bond has taught English Literature at Yale and Law at City University, London. He now practices at the Commercial Bar in London.
Reviews of 'Spenser, Milton, and the Redemption of the Epic Hero'
"
Well-written and accessible, this insightful study will reward students and scholars at every level.
"
- Choice
"
He thinks in new and useful ways about structural archetypes […]
"
- Studies in English Literature