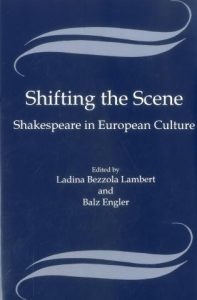 Editor(s)
Ladina Bezzola Lambert and Balz Engler
Hardback
July 2004 • ISBN 978-1611492484 • $104.00
Order Online
Shifting the Scene adapts words from one of the Choruses in Henry V. Its essays try, without denying authority to the text and the theater, to widen the scene of inquiry to include other institutions, such as education, politics, language, and the arts, and to juxtapose the constructions of Shakespeare and his works that have been produced by them. However, as in Henry V, there is also a geographical dimension. The collection goes beyond England and the English-speaking world and focuses on Europe (including Britain). Shakespeare's importance for European culture is documented by the role he has played, since the late eighteenth century, in national literatures and their use. Shakespeare highlights differences as well as a shared heritage, and there is no other author whose works offer as rich material for comparative study.
About the Editors
Ladina Bezzola Lambert is a researcher and lecturer in the English Department of the University of Basel, Switzerland.
Balz Engler is Professor of English at the University of Basel.