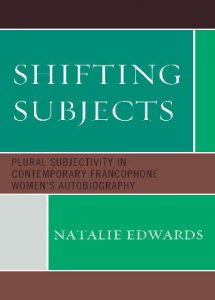 Author
Natalie Edwards
Hardback
April 2011 • ISBN 978-1611490305 • $86.00
Order Online
There are many different ways to say "I." This book examines the ways in which four contemporary women writers (Hélène Cixous, Assia Djebar, Gisèle Halimi, and Julia Kristeva) have written their autobiographical "I" as a plural concept. These women refuse the individual "I" of traditional autobiography by developing narrative strategies that multiply the voices in their texts. They similarly cast doubt upon current theorizations of the female self in autobiography by questioning the possibility of plural selfhood in narrative and its seemingly cathartic effects. Each writer approaches autobiography as a site of catharsis for a specific trauma and each tells her story through multiple narrative voices in order to find atonement. The women's experiments with narrative voice are designed to render the female self accurately in narrative, but they simultaneously expose the difficulties inherent in writing the self plurally.
Taken together, the women who form the corpus of this study move beyond critics' current understandings of textual representations of selfhood. Informed by postcolonial and feminist approaches to selfhood, this book charts the history of theories of autobiography and plots new ways of imagining this genre. This cross-section of international writers calls for a new understanding of the inscription of female identity in narrative; not as a binary of individual versus plural selfhood, but as a cluster of categories of identity beyond "I" and "we."
About the Author
Natalie Edwards teaches at Wagner College, New York City.