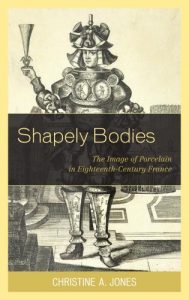 Shapely Bodies: The Image of Porcelain in Eighteenth-Century France constructs the first cultural history of porcelain making in France. It takes its title from two types of "bodies" treated in this study: the craft of porcelain making shaped clods of earth into a clay body to produce high-end commodities and the French elite shaped human bodies into social subjects with the help of makeup, stylish patterns, and accessories. These practices crossed paths in the work of artisans, whose luxury objects reflected and also influenced the curves of fashion in the eighteenth century.
French artisans began trials to reproduce fine Chinese porcelain in the 1660s. The challenge proved impossible until they found an essential ingredient, kaolin, in French soil in the 1760s. Shapely Bodies differs from other studies of French porcelain in that it does not begin in the 1760s at the Sèvres manufactory when it became technically possible to produce fine porcelain in France, but instead ends there. Without the secret of Chinese porcelain, artisans in France turned to radical forms of experimentation. Over the first half of the eighteenth century, they invented artificial alternatives to Chinese porcelain, decorated them with French style, and, with equal determination, shaped an identity for their new trade that distanced it from traditional guild-crafts and aligned it with scientific invention. The back story of porcelain making before kaolin provides a fascinating glimpse into the world of artisanal innovation and cultural mythmaking.
To write artificial porcelain into a history of "real" porcelain dominated by China, Japan, and Meissen in Saxony, French porcelainiers learned to describe their new commodity in language that tapped into national pride and the mythic power of French savoir faire. Artificial porcelain cut such a fashionable image that by the mid-eighteenth century, Louis XV appropriated it for the glory of the crown. When the monarchy ended, revolutionaries reclaimed French porcelain, the fruit of a century of artisanal labor, for the Republic. Tracking how the porcelain arts were depicted in documents and visual arts during one hundred years of experimentation, Shapely Bodies reveals the politics behind the making of French porcelain's image.
About the Author
Christine A. Jones is Associate Professor of French and Comparative Literary and Cultural Studies in the Department of Languages and Literature at the University of Utah.