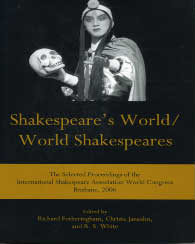 This collection offers twenty-nine essays by many of the world's major scholars of the extraordinary diversity and richness of Shakespeare studies today. It ranges from examinations of the society William Shakespeare himself lived in, to recent films, plays, novels, and operatic adaptations for adults and children in Europe, Africa, Asia, Australia, and the Middle East. It opens with a Prologue by the former Deputy Prime Minister of Malaysia, Datuk Seri Anwar Ibrahim, describing how reading the Collected Works of Shakespeare inspired and helped him survive six years as a political prisoner, while the Epilogue is delivered by the major novelist David Malouf, who speculates on the genius of Shakespeare, the world's author.
About the Editors
Richard Fotheringham is Professor of Theatre Studies at The University of Queensland.
Christa Jansohn is Chair of British Studies and Director of the Centre for British Studies, Otto Friedrich University, Bamberg, Germany.
R. S. White is an Australian Professorial Fellow and Professor of English and Cultural Studies at the University of Western Australia.