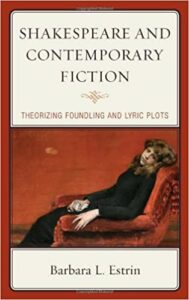 Author
Barbara L. Estrin
Hardback
November 2011 • ISBN 978-1-64453-105-1 • $90.00
Paperback
November 2011 • ISBN 978-1-64453-106-8 • $35.00
* E-Book Available
Order Online
In the first book to use fiction as theory, Barbara L. Estrin reverses chronological direction, beginning with contemporary novels to arrive at a re-visioned Shakespeare, uncovering a telling difference in the stories that script us and that influence our political unconscious in ways that have never been explored in literary-critical interpretations. Describing the animus against foreign blood, central to the dynamic of the foundling and lyric plots that form the nexus of her study, Estrin describes how late modern writers change those plots. Reading backward through the theoretical lens of their revisions allows us to rethink the Shakespeare we thought we knew. That innovative methodology, in turn, encourages us to read forward again with different tellings, ones that challenge the mythological homogeneity of the traditional classifications and that suggest new formulaic paradigms.
With close readings of four contemporary novels and three Shakespeare plays, Estrin identifies the cultural walls that contribute to political gate-keeping as she chronicles the connection between plot variations and gender revisionism in the work of Caryl Phillips, Liz Jensen, Anne Michaels, and W.G. Sebald, as well as two film-makers (Mona Hatoum and Mieke Bal) who demonstrate an understanding that mythical repercussions prove dangerous in the twentieth and twenty-first centuries even as they suggest how the heritage shaping their work, and to which they are themselves drawn, in turn proposes an alternative Shakespeare, one who frees us to ask other questions: At the time that the nation state was beginning to coalesce, what does Shakespeare's frequent use of the foundling plot and his significant variations portend? How does his infusion of a revised lyric dynamic in The Merchant of Venice, Othello and The Winter's Tale change our reading of plays where the two plots coalesce as they do in the contemporary novels that shape Estrin's late modern interpretations? All the works in this study share the underlying premise that the connection between cultural origins and political destinies is reciprocal and that it is necessary and possible to transform the constructs—in memory and imagination—that continue to shape our lives.
About the Author
Barbara L. Estrin is Professor Emerita of English at Stonehill College and is the author of The Raven and the Lark: Lost Children in Literature of the English Renaissance (Bucknell UP, 1985), Laura: Uncovering Gender and Genre in Wyatt, Donne and Marvell (Duke UP 1995), and The American Love Lyric After Auschwitz and Hiroshima (Palgrave, 2002). She has also written numerous articles about early and late modern topics.
Reviews of 'Shakespeare and Contemporary Fiction: Theorizing Foundling and Lyric Plots'
"
Estrin certainly offers a new and original approach to Shakespeare; her study is carefully researched […] This is a valuable study […] for those interested in rethinking Shakespeare and how "the stories that divide us might be … told differently.
"
- Choice