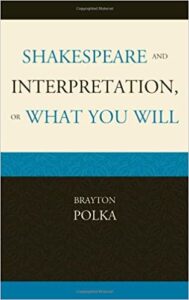 Author
Brayton Polka
Hardback
June 2011 • ISBN 978-1-64453-117-4 • $90.00
Paperback
June 2011 • ISBN 978-1-64453-118-1 • $46.00
* E-Book Available
Order Online
Brayton Polka takes both a textual and theoretical approach to seven plays of Shakespeare: Macbeth, Othello, Twelfth Night, All's Well That Ends Well, Julius Caesar, Troilus and Cressida, and Hamlet. He calls upon the Bible and the ideas of major European thinkers, above all, Kierkegaard and Spinoza, to argue that the concept of interpretation that underlies both Shakespeare's plays and our own lives as moderns is the golden rule of the Bible: the command to love your neighbor as yourself. What you will (the alternative title of Twelfth Night ) thus captures the idea that interpretation is the very act by which we constitute our lives. For it is only in willing what others will—in loving relationships—that we enact a concept of interpretation that is adequate to our lives.
Polka argues that it is the aim of Shakespeare, when representing the ancient world in plays like Julius Caesar and Troilus and Cressida, and also in his long narrative poem "The Rape of Lucrece," to dramatize the fundamental differences between ancient (pagan) values and modern (biblical) values or between what he articulates as contradiction and paradox. The ancients are fatally destroyed by the contradictions of their lives of which they remain ignorant. In contrast, we moderns in the biblical tradition, like those who figure in Shakespeare's other works, are responsible for addressing and overcoming the contradictions of our lives through living the interpretive paradox of "what you will," of treating all human beings as our neighbor. Shakespeare's comedies and tragedies, notwithstanding their dramatically different form, share this interpretive framework of paradox. As the author shows in his book, texts without interpretation are blind and interpretation without texts is empty.
About the Author
Brayton Polka is Professor Emeritus of Humanities and Social and Political Thought at York University in Toronto. He has written four books and numerous smaller studies.