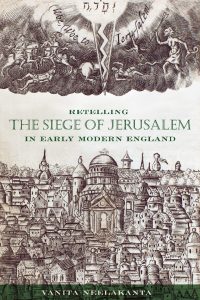 Retelling the Siege of Jerusalem in Early Modern England traces sixteenth- and seventeenth-century English retellings of the Roman siege of Jerusalem and the way they informed and were informed by religious and political developments. The siege featured prominently in many early modern English sermons, ballads, plays, histories, and pamphlets, functioning as a touchstone for writers who sought to locate their own national drama of civil and religious tumult within a larger biblical/post-biblical context. Reformed England identified with besieged Jerusalem, establishing an equivalency between the Protestant Church and the ancient Jewish nation. As print culture grew, secular interpretations of the siege spoke to the political anxieties in England as it was beginning to fashion a conception of itself as a nation. Retelling the Siege of Jerusalem in Early Modern England thus illustrates the pliability of the siege trope and charts the changing value of history across the seventeenth century: from requisite knowledge for the religious to a fashionable pursuit for the literate and culturally informed.
About the Author
Vanita Neelakanta is Associate professor of English at Rider University.
Reviews of 'Retelling the Siege of Jerusalem in Early Modern England'
"
This book smartly and briskly shows how the Reformation leads to empathy for the suffering Jews in Josephus, not the Roman (and allegorically Catholic) victors.
"
- Ryan Netzley, Southern Illinois University
"
This is a distinguished piece of scholarship, superbly researched and written…. The story Neelakanta tells is rich and fascinating, and she is a superb reader of texts, her analysis of these retellings in various genres is excellent, meticulous, and always illuminating both of the texts and the historical moments in which they appear.
Her choice of texts, the diverse genres, and the span of chronology make this a major contribution to our understanding of early modern England.
"
- Achsah Guibbory, Barnard College