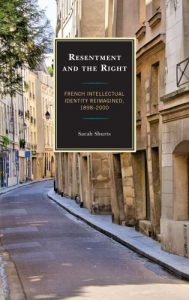 Author
Sarah Shurts
Hardback
June 2017 • ISBN 978-1611496345 • $116.00
* E-Book Available
Order Online
Resentment and the Right: French Intellectual Identity Reimagined, 1898-2000 examines a century-long struggle between cultural spokesmen on the extreme right and left to dominate and define the concept of "the intellectual." This struggle began with the introduction of the "intellectual" during the Dreyfus Affair of 1898 and continues even today among the intellectuals of the Nouvelle Droite. This struggle to monopolize the public perception of intellectual identity, and the status of moral and political guide the title conferred, consumed the intellectual leaders of the extreme right and left and saturated their engagement in political affairs. Because the left was the first to claim the title of intellectual in 1898, they defined the concept according to their own values and experiences. Hereafter, when intellectuals of the extreme right felt called to engage in public affairs, they portrayed their struggle for recognition as one of an oppressed and ostracized minority against a hegemonic left. Their resentment of this perceived repression became integral to their linguistic tropes, professional trajectories, cultural practices, and their self-conceptualization as intellectuals.
The book is organized around the argument that at each perceived national crisis throughout the century, when intellectuals felt called to engage, the right-wing struggle to define true intellectual identity for the public followed a similar cycle: self-identification as intellectuals, perception of exclusion by the intellectual left, resentment of this ostracism and development of linguistic tropes of left-wing hegemony and right-wing repression, differentiation, revaluation, and reappropriation of cultural values, self-imposed segregation of social networks and professional trajectories, internalization and revaluation of their perceived role as intellectual pariahs, and eventual isolation, alienation, and radicalization from the mainstream intellectual and political world. All together this has resulted in a very different experience of intellectual life and a distinctive understanding of what it means to be an intellectual over the century.
About the Author
Sarah Shurts is associate professor of history at Bergen Community College.