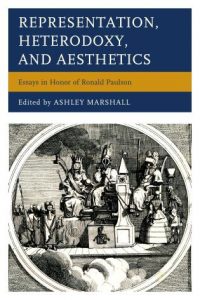 Editor(s)
Ashley Marshall
Contributor(s)
John Barrell; Ann Bermingham; Robert Folkenflik; Robert D. Hume; Michael McKeon; J. Hillis Miller; Mary Poovey; William L. Pressly and Claude Rawson
Hardback
December 2014 • ISBN 978-1611495348 • $97.00
* E-Book Available
Order Online
The chapters constituting this book are different in subject and method, striking testimony to the range of Paulson's interests and the versatility of his critical powers. In his prolific career he has produced extensive analysis of art, poetry, fiction, and aesthetics produced in England between 1650 and 1830. Paulson's unique contribution has to do with his understanding of "seeing" and "reading" as closely related enterprises, and "popular" forms in art and literature as intimately connected—connections illustrated by literary critics and art historians here. Every essay shares some of the concerns and methods that characterize Paulson's wonderfully idiosyncratic thought—except for the final essay, an attempt systematically to analyze Paulson's critical principles and methods. Recurrent themes are a concern with satire in the eighteenth century; a connection between verbal and visual reading; an insistence on the importance of individual artistic choices to the history of culture; an attention to the aims and motives of individual makers of art; and a sensitivity to the crucial links between high and low art.
This volume offers rich explorations of a range of subjects: Swift's relationship to Congreve; Zoffany's condemnation of Gillray and Hogarth, and broader implications for the role of art in public discourse; the presentation of mourning in the work of the Welsh artist and writer Edward Pugh; G. M. Woodward's "Coffee-House Characters," representing a turn from satire on morals towards satire on manners; Adam Smith's evolving aesthetic program; Samuel Richardson's notions of social reading. The discussions represent a variety of exemplifications of the Paulsonesque, showing a concern with satiric representation in mixed media, with different forms of heterodoxy and iconoclasm, and with the values of producers of popular and polite culture in this period.
About the Editor
Ashley Marshall is assistant professor of English at the University of Nevada-Reno.