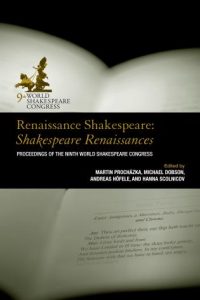 Selected contributions to the Ninth World Shakespeare Congress, which took place in July 2011 in Prague, represent the contemporary state of Shakespeare studies in thirty-eight countries worldwide. Apart from readings of Shakespeare's plays and poems, more than forty chapters map Renaissance contexts of his art in politics, theater, law, or material culture and discuss numerous cases of the impact of his works in global culture from the Americas to the Far East, including stage productions, book culture, translations, film and television adaptations, festivals, and national heritage. The last section of the book focuses on the afterlife of Shakespeare in the work of the leading British dramatist Tom Stoppard.
About the Editors
Michael Dobson is Director of the Shakespeare Institute and Professor of Shakespeare Studies at Birmingham University. He is also an honorary governor of the Royal Shakespeare Company, an executive trustee of the Shakespeare Birthplace Trust, and a founding member of the European Shakespeare Research Association. His publications include Shakespeare and Amateur Performance (2011), Performing Shakespeare's Tragedies Today (2006), and The Making of the National Poet (1992). He is also co-editor of England's Elizabeth (2002) and The Oxford Companion to Shakespeare (2001).
Andreas Höfele is Professor of English at the University of Munich. He is the author of Stage, Stake, and Scaffold: Humans and Animals in Shakespeare's Theatre (OUP, 2011), winner of the 2012 Roland H. Bainton Prize in Literature. His publications in German include books on Shakespeare's stagecraft, late 19th-century parody and on Malcolm Lowry as well as six novels. A member of the Bavarian and the Heidelberg Academies of Science, he was President of the German Shakespeare Society from 2002 to 2011.
Martin Procházka is Professor of English, American, and Comparative Literature and head of the Department of Anglophone Literatures and Cultures at Charles University, Prague. In 2011 he convened the Ninth World Shakespeare Congress in Prague. He is the vice-chair of the International Shakespeare Association, visiting professor at the Universities of Glasgow, Kent and Porto (Portugal), and the corresponding fellow of The English Association. His works include Romantismus a osobnost (Romanticism and Personality, 1996), Transversals (2007), Ruins in the New World (2012), and the co-author of Romantismus a romantismy. He is the founding editor of the international academic journal Litteraria Pragensia.
Hanna Scolnicov is Professor Emerita of Theatre Studies and former head of the School of Graduate Studies of the Faculty of Arts at Tel-Aviv University. She is a Life Member of Clare Hall and a member of Lucy Cavendish College, Cambridge. Her works include The Experimental Plays of Harold Pinter, Experiments in Stage Satire, and Woman's Theatrical Space. She is co-editor of The Play Out of Context and Reading Plays. In addition to these works she has also published over sixty essays on Elizabethan theatre, intertextuality, Shakespeare, Stoppard, Pinter and other topics.