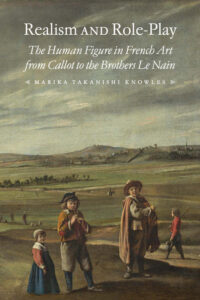 After the heroic nudes of the Renaissance and depictions of the tortured bodies of Christian saints, early seventeenth-century French artists turned their attention to their fellow humans, to nobles and beggars seen on the streets of Paris, to courtesans standing at their windows, to vendors advertising their wares, to peasants standing before their landlords. Fascinated by the intricate politics of the encounter between two human beings, artists such as Jacques Callot, Daniel Rabel, Abraham Bosse, Claude Vignon, Georges de la Tour, Jean de Saint-Igny, the Brothers Le Nain, Pierre Brébiette, Jean I Le Blond, and Charles David represented the human figure as a performer acting out a social role. The resulting figures were everyday types whose representations in series of prints, painted galleries, and illustrated books created a repertoire of such contemporary roles. Realism and Role-Play draws on literature, social history, and affect theory in order to understand the way that figuration performed social positions.
About the Author
Marika Knowles is Lecturer in Art History at the University of Saint Andrews.
Reviews of 'Realism and Role-Play: The Human Figure in French Art from Callot to the Brothers Le Nain'
"
In this highly original study, the visual examples chosen are rich, the visual analyses are compelling, and there is a varied array of broader cultural contextualization brought into play, from theater to literature and social history.
"
- Genevieve Warwick, University of Edinburgh, coeditor of Art and Technology in Early Modern Europe