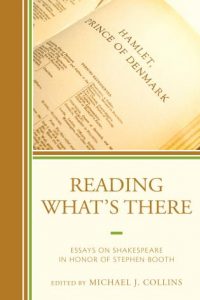 Editor(s)
Michael J. Collins
Contributor(s)
Thomas L. Berger; Ralph Alan Cohen; Laurie Ellinghausen; Michael Ellis-Tolaydo; Brett Gamboa; Michael Goldman; Jay L. Halio; James E. Hirsh; Margaret Maurer; Nicholas Nace; Louisa Newlin and Mark Womack
Hardback
December 2014 • ISBN 978-1611495072 • $86.00
Order Online
The twelve essays were written not simply to honor Stephen Booth, but to further the study of Shakespeare. Booth has, for over forty years, proposed a distinct understanding of how Shakespeare's plays and poems work upon us and a unique and rigorous way of reading them. The essays here reflect his insights and method and are meant both to recognize his monumental achievements as a critic and to suggest the enduring value of his work to Shakespeare scholarship.
The first essay explains the method and the advantages of Booth's approach to Shakespeare. The next two—on Romeo and Juliet and The Rape of Lucrece —demonstrate Booth's way of reading Shakespeare. The next four develop Booth's contention that Shakespeare often sets "audiences to watch—or, rather, to try to watch—a play other than the one he shows them." The next two essays look at textual problems from Booth's perspective and explore the challenges editors face in their attempts to establish authentic texts for modern readers. The last three essays focus on teaching and include a description of Stephen Booth's teaching practices and his own renown explanation, through a commentary on Philip D. Eastman's Go, Dog. Go!, of the way poetry works upon its readers and the reasons they value it highly. The book concludes with a bibliography of Stephen Booth's work.
About the Editor
Michael J. Collins is professor of English and emeritus dean at Georgetown University.