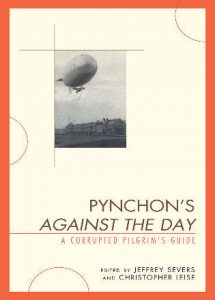 Editor(s)
Jeffrey Severs and Christopher Leise
Contributor(s)
Graham Benton, Christopher K. Coffman, Inger H. Dalsgaard, Amy J. Elias, Kathryn Hume, Martin Kevorkian, Christopher Leise, Brian McHale, Elisabeth McKetta, J. Paul Narkunas, Krzysztof Piekarski, Terry Reilly, Jeffrey Severs, and Justin St. Clair
Hardback
February 2011 • ISBN 978-1611490640 • $109.00
* E-Book Available
Order Online
Thomas Pynchon's longest novel to date, Against the Day (2006), excited diverse and energetic opinions when it appeared on bookstore shelves nine years after the critically acclaimed Mason & Dixon. Its wide-ranging plot covers nearly three decades—from the 1893 World's Fair to the years just after World War I—and follows hundreds of characters within its 1085 pages. Pynchon's Against the Day: A Corrupted Pilgrim's Guide offers eleven essays by established luminaries and emerging voices in the field of Pynchon criticism, each addressing a significant aspect of the novel's manifold interests. By focusing on three major thematic trajectories (the novel's narrative strategies; its commentary on science, belief, and faith; and its views on politics and economics), the contributors contend that Against the Day is not only a major addition to Pynchon's already impressive body of work but also a defining moment in the emergence of twenty-first century American literature.
About the Editors
Jeffrey Severs is assistant professor in the English Department at the University of British Columbia.
Christopher Leise is assistant professor of English at Whitman College. He is co-editor of, and contributor to, William Gaddis, "The Last of Something": Critical Essays (McFarland, 2010).