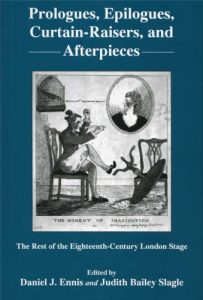 Editor(s)
Daniel J. Ennis and Judith Bailey Slagle
Hardback
January 2007 • ISBN 978-1611493108 • $97.00
Order Online
This collection of essays presents a fresh analysis of the complete theater evening that was available to audiences in the Restoration in early nineteenth-century playhouses. The contributing scholars focus not on the mainpiece, the advertised play itself, but on what surrounded the mainpiece for the "total" theater experience of the day. Various critical essays address artistic disciplines such as dance and theatrical portraits, while others concentrate on peripheral performance texts, prologues, epilogues, pantomimes, and afterpieces that merged to define the overall theatrical event.
About the Editors
Daniel J. Ennis is an Associate Professor of English at Coastal Carolina University.
Judith Bailey Slagle is Professor and Chair of English at East Tennessee State University.