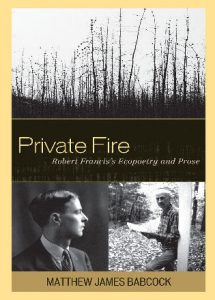 Author
Matthew James Babcock
Hardback
April 2011 • ISBN 978-1611490220 • $91.00
* E-Book Available
Order Online
Matthew J. Babcock's Private Fire: Robert Francis's Ecopoetry and Prose is an examination of the life and work of one of America's most intriguing but tragically obscure writers. Babcock uses his own personal relationship with Robert Francis's work, which emphasizes conservation and connectedness to our natural surroundings, to illuminate both overtones and nuances that are undoubtedly useful to those interested in poetry and ecology.
Babcock begins with a brief biographical section intended to set the tone for readers previously unfamiliar with Robert Francis and then continues into an analysis of the influence of Emily Dickinson and Robert Frost on Francis's work. Starting in Chapter Three, Private Fire shifts into the realm of literary analysis and discusses various angles of Francis's work, from representations of gender and sexual identity; prose contributions, both fiction and non-fiction; religion and politics; to themes of conservation, place-making, experimental poetic styles, and asceticism, finishing with a discussion of Francis's only long narrative poem, "Valhalla." This poem joins other prophetic works in musing upon environmental apocalypticism.
Matthew J. Babcock finishes this detailed and thoughtful volume with concluding meditations that situate Robert Francis with his contemporaries, helping readers to locate him historically and contextually amongst other 20th-century writers. By using biography and literary theory as the lens through which one interprets Francis's work, Private Fire: Robert Francis's Ecopoetry and Prose successfully navigates the literary and cultural environment surrounding a poet who himself was so connected with the world around him.
About the Author
Matthew James Babcock teaches composition, literature, and creative writing at Brigham-Young University-Idaho.