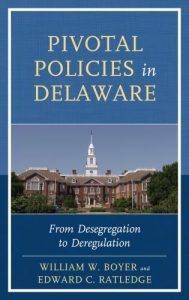 Author
William W. Boyer and Edward C. Ratledge
Hardback
November 2013 • ISBN 978-1611494839 • $97.00
* E-Book Available
Order Online
This book identifies ten pivotal policies in Delaware that still impact public life in this small state. Much that has happened since the mid-twentieth century in Delaware public policy evolved from particular events. These events consisted of court decisions, laws passed, or happenings of particular persons. They prompted public policies, the effects of which were not clearly understood, were counter to what was anticipated, had undesirable side effects, or were inadequate to deal with the problems encountered.
This chronicle begins in 1954 when the U.S. Supreme Court confronted racially segregated Delaware with the necessity to desegregate its public schools "with all deliberate speed." Chapter 2 evolves from 1964, when the Supreme Court ordained—by virtue of its "one-person-one-vote" decision—that states end over-representation of rural voters in their state legislatures. Chapter 3 turns to the 1968 assassination of Martin Luther King followed by the Delaware National Guards occupation of Wilmington for over nine months. Chapter 4 focuses on the 1970 establishment of the cabinet system in Delaware's state government. Chapter 5 concentrates on the 1971 enactment to protect Delaware's coastal zone, and its aftermath. Chapter 6 records 1977 as a turning point for Delaware's response to increasing crime by option for increasing punishment in place of rehabilitating prisoners. Chapter 7 highlights how the General Assembly's over-ride of the 1978 budget evoked consensus and bipartisan politics. Chapter 8 focuses on the newly ensconced pro-business climate, illustrated in 1951 by the Financial Center Development Act that deregulated credit card banking. Chapter 9 tells that story of how Delaware sought to confront its high cancer rate, beginning with the 1990 report of the Governor's advisory council. Chapter 10 concentrates on Delaware's troubled efforts to develop energy policies, beginning with the 1999 legislation deregulating electric power. The book's Afterword broadly assesses how these foregoing major policy developments have effected systemic institutional change in how Delaware is governed.
About the Authors
William W. Boyer is the Charles Polk Messick Professor Emeritus in the Department of Political Science and International Relations and visiting scholar at the Center for Applied Demography and Survey Research at the School of Public Policy and Administration, University of Delaware.
Edward C. Ratledge is director of the Center for Applied Demography and Survey Research at the College of Arts and Sciences, University of Delaware.