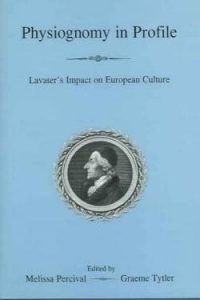 Editor(s)
Melissa Percival and Graeme Tytler
Hardback
June 2005 • ISBN 978-1611492378 • $97.00
Order Online
The Swiss theologian Johann Caspar Lavater (1741-1801) is best known for his revival of physiognomy, or the ancient art of judging character from physical appearance. His writings on physiognomy, rapidly translated into the major European languages, made him a celebrity in his lifetime. Although they were always controversial, Lavater's theories had a pervasive and long-lasting influence on art, literature, medicine, and the emerging social sciences. Physiognomy in Profile affirms and assesses Lavater's contribution to European culture in the two hundred years since his death. It examines how his vision of physiognomy as a viable method of interpreting the modern world has repeatedly been affirmed and challenged. Even today, at the turn of the twenty-first century, this study reveals that Lavater's ideas have a surprising resilience. The book adopts a cross-disciplinary approach, focusing on the novel, press and periodical literature, painting, drawing, photography, caricature, encyclopedias, and medical texts. It brings together the work of scholars from North America, Europe, and Australia. Illustrated.
About the Editors
Melissa Percival is Senior Lecturer in French at the University of Exeter.
Graeme Tytler is a retired educator.