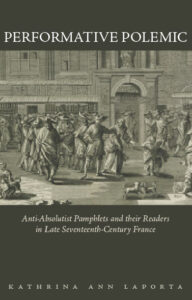 Author
Kathrina Ann LaPorta
Hardback
June 2021 • ISBN 978-1-64453-209-6 • $120.00
Paperback
June 2021 • ISBN 978-1-64453-210-2 • $39.95
* E-Book Available
Order Online
Series
The Early Modern Exchange
Performative Polemic is the first literary historical study to analyze the "war of words" unleashed in the pamphlets denouncing Louis XIV's absolute monarchy between 1667 and 1715. As conflict erupted between the French ruler and his political enemies, pamphlet writers across Europe penned scathing assaults on the Sun King's bellicose impulses and expansionist policies. This book investigates how, at a crucial moment in which politics was enacted through praise literature and the spectacle of court ceremony, pamphlet writers challenged the monarchy's monopoly over the performance of sovereignty by contesting the very mechanisms through which the Crown legitimized its authority at home and abroad.
In this volume, Kathrina Ann LaPorta offers a new conceptual framework for reading pamphlets as political interventions. Rather than viewing these polemical works as windows into the past, LaPorta asserts that an analysis of the pamphlet's form is crucial to understanding how pamphleteers actively dialogued with the literary field to invest readers in political dissent. Even as pamphlets spread sedition, their authors seduced readers by capitalizing on existing markets in literature, legal writing, and journalism. Pamphlet writers appealed to the theatergoing public that would have been attending plays by Molière and Racine, as well as to readers of historical novels and periodicals. Whether they appropriated juridical language to indict absolutism, or usurped Louis XIV's voice in fictive narratives mocking his impotence, pamphleteers entertained readers as they revealed the fault lines in the absolutist enterprise. In examining the endlessly creative ways in which pamphlets attacked the performative circuitry behind the curtain of monarchy, LaPorta offers a richer picture of the intersections between seventeenth-century literary culture and the clandestine world of pamphleteering.
About the Author
Kathrina Ann LaPorta is a lecturer in the Department of French Literature, Thought and Culture at New York University. A specialist of early modern France, her research interests include seventeenth- and eighteenth-century French literature, material history, and critical theory. Her work has appeared in Early Modern French Studies, French Studies Bulletin, and the Cahiers du dix-septième: An Interdisciplinary Journal. She is preparing an online critical edition of anti-absolutist pamphlets with Christophe Schuwey, a project funded by a grant from the Neukom Institute for Computational Science at Dartmouth College.