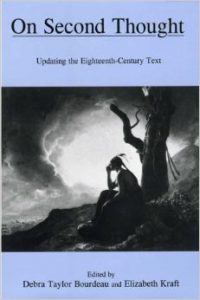 Editor(s)
Debra Taylor Bourdeau and Elizabeth Kraft
Hardback
July 2007 • ISBN 978-1611493146 • $104.00
Order Online
Why isn't once enough for the telling of some tales? Why do we return to write and read sequels or updates or revisions? Why do some narratives provoke responses decades or even centuries after their first appearance? Why do some authors stimulate imitations and acts of impersonation or ventriloquism? The essays in this collection address these questions and others with respect to eighteenth-century texts. Divided into two parts, the book focuses on, first, eighteenth-century sequels and, then, twentieth-century updates to offer cogent, provocative readings of individual works that contest the notion of proprietary authorship by acts of appropriation, homage, and intertextuality. The volume reflects current critical trends in its expansive sense of "text" as well as in its emphasis on postmodern and postcolonial themes.
About the Editors
Debra Taylor Bourdeau is a Visiting Assistant Professor at the University of West Georgia.
Elizabeth Kraft teaches eighteenth-century literature and film at the University of Georgia.