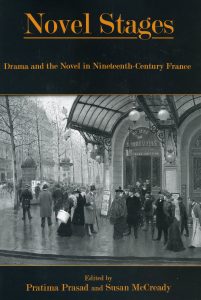 Editor(s)
Pratima Prasad and Susan McCready
Hardback
April 2007 • ISBN 978-1611493160 • $91.00
Order Online
Aimed at examining the intersections between the drama and the novel in nineteenth-century France, this collection of essays reorients scholarly attention to the central place of the theater in nineteenth-century life. Although not limited to a single critical approach, the essays in this collection share common intellectual concerns: the inscription of theatrical aesthetics within the novel; the widespread practice among nineteenth-century novelists of adapting their works for the stage; and the novel's engagement with popular forms of theater. Each of the ten essays provides insight into a specific aspect of the relationship between the theater and the novel in the nineteenth century. Read together, their distinct perspectives form an overview of the literary landscape of nineteenth-century France. Bridging the gap between the drama and the novel, Novel Stages engages readers across the sometimes divisive lines of critical theory, cultural studies, and genre studies.
About the Editors
Pratima Prasad is Assistant Professor in the Modern Languages Department at the University of Massachusetts-Boston.
Susan McCready is Associate Professor of French at the University of South Alabama, Mobile.