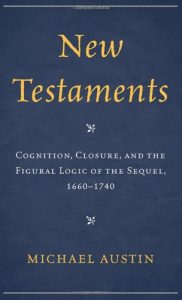 Author
Michael Austin
Hardback
November 2011 • ISBN 978-1611493641 • $86.00
* E-Book Available
Order Online
In the seventeenth and eighteenth centuries, popular works of literature attracted—as they attract today—sequels, prequels, franchises, continuations, and parodies. Sequels of all kinds demonstrate the economic realities of the literary marketplace. This represents something fundamental about the way human beings process narrative information. We crave narrative closure, but we also resist its finality, making such closure both inevitable and inadequate in human narratives. Many cultures incorporate this fundamental ambiguity towards closure in the mythic frameworks that fuel their narrative imaginations. New Testaments: Cognition, Closure and the Figural Logic of the Sequel, 1660-1740 examines both the inevitability and the inadequacy of closure in the sequels to four major works of literature written in England between 1660 and 1740: Paradise Lost, The Pilgrim's Progress, Robinson Crusoe, and Pamela. Each of these works spawned sequels, which—while often different from the original works—connected themselves through rhetorical strategies that can be loosely defined as figural. Such strategies came directly from the culture's two dominant religious narratives: the Old and New Testaments of the Christian Bible—two vastly dissimilar works seen universally as complementary parts of a unified and coherent narrative.
About the Author
Michael Austin is provost, vice president for Academic Affairs, and professor of English at Newman University in Wichita, Kansas.
Reviews of 'New Testaments: Cognition, Closure, and the Figural Logic of the Sequel, 1660–1740'
"
Austin frees us from the same dull round of Foucault, Derrida, and Freud; he takes us, if not quite into the New Jerusalem of unbounded interdisciplinarity, at least up to the banks of the Jordan, within view of new possibilities.
"
- Kevin L. Cope, Louisiana State University