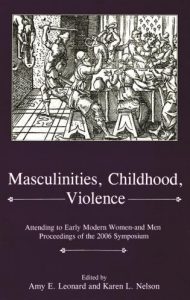 Editor(s)
Amy E. Leonard and Karen L. Nelson
Contributor(s)
Susan D. Amussen, Jeanice Brooks, Margaret D. Carroll, Sarah R. Cohen, Margaret Ferguson, Valeria Finucci, Amy E. Leonard, Randall Martin, Caroline P. Murphy, Alexandra Shepard, and Judith E. Tucker
Hardback
December 2010 • ISBN 978-1611490183 • $116.00
* E-Book Available
Order Online
This interdisciplinary volume includes essays and workshop summaries for the 2006 Attending to Early Modern Women—and Men symposium. Essays and workshop summaries are divided into four sections, "Masculinities," "Violence," "Childhood," and "Pedagogies." Taken together, they considers women's works, lives, and culture across geographical regions, primarily in England, France, Germany, Italy, the Low Countries, the Caribbean, and the Islamic world and explore the shift in scholarly understanding of women's lives and works when they are placed alongside nuanced considerations of men's lives and works.
About the Editors
Amy E. Leonard is associate professor of history at Georgetown University and author of Nails in the Wall: Catholic Nuns in Reformation Germany.
Karen L. Nelson is associate director of the Center for Renaissance & Baroque Studies at the University of Maryland and co-editor of Women, Writing, and the Reproduction of Culture in Tudor and Stuart Britain.