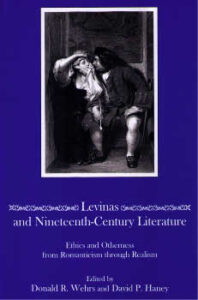 Editor(s)
Donald R. Wehrs and David P. Haney
Hardback
August 2009 • ISBN 978-1611491166 • $104.00
Order Online
Levinas and Nineteenth-Century Literature presents nine essays that reread major British, American, and European nineteenth-century literary texts in light of the post-deconstruction ethical philosophy of Emmanuel Levinas. The first section pursues in essays on Wordsworth, Coleridge, De Quincey, and Baudelaire connections between Levinas's radical rethinking of subjectivity and Romantic generic, aesthetic, and conceptual innovation. The second section explores how Levinas's analysis of totalizing thought may illuminate how Poe, Emerson, Hawthorne, Douglass, Susan Warner, and Melville grapple with American experience and culture. The third section considers the relevance of Levinas's work for reassessments of the realist novel through essays on Austen, Dickens, and George Eliot. Essay authors are A. C. Goodson, David P. Haney, E. S. Burt, Alain Paul Toumayan, N. S. Boone, Lorna Wood, Donald R. Wehrs, Melvyn New, and Rachel Hollander.
About the Editors
Donald R. Wehrs is Associate Professor of English at Auburn University.
David P. Haney is Vice-Provost for Undergraduate Education and Professor of English at Appalachian State University.