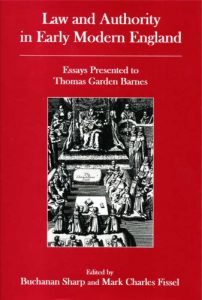 Editor(s)
Buchanan Sharp and Mark Charles Fissel
Hardback
December 2006 • ISBN 978-1611493054 • $87.00
Order Online
This collection of essays honors Thomas G. Barnes, Professor of History and Law at the University of California, Berkeley. It addresses some major issues and themes in English history from the 1590s to the 1840s that have been central to Dr. Barnes's own work in law and authority in the same period. The essays, all written by specialists in the field, illuminate the complex, sometimes conflicted, relationship between royal authority and the law and the impact of both upon the governed. While the essays deal with apparently different and discrete topics, certain common themes emerge that provide an overall unity to the volume. These themes are: the common law and its rivals, the growth in parliamentary authority, the assertion of royal authority, and royal authority and the governed.
About the Editors
Buchanan Sharp is Professor of History at the University of California, Santa Cruz.
Mark Charles Fissel is Professor of History at Augusta State University.