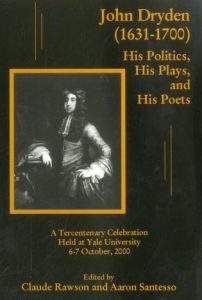 Editor(s)
Claude Rawson and Aaron Santesso
Hardback
December 2003 • ISBN 978-0874138429 • $100.00
Order Online
This volume celebrates the work of John Dryden and reassesses his position in the literary tradition three hundred years after his death. Part 1, "The Court, the Town, and the Playhouse," features essays by Lawrence Manley, Harold Love, Howard Erskine-Hill, David Womersley, and Maximillian Novak that reconsider Dryden's interaction with the London of his day, and how that interaction shapes his drama. Part 2, "Dryden and the Poets," sets Dryden alongside those poets who influenced him (Virgil, Persius, Juvenal, Shakespeare), those he influenced (Pope and Swift), and contemporary poetic rivals (Milton and Marvell) in essays by Steven Zwicker, Emrys Jones, Susanna Morton Braund, Paul Hammond, Louis Martz, Annabel Patterson, Ian Higgins, Valerie Rumbold, and Barbara Everett. Together the essays form a new appreciation of the extraordinary ambition and impact on this most dynamic dramatist and poet.
About the Editors
Claude Rawson is Maynard Mack Professor of English at Yale University.
Aaron Santesso is Assistant Professor of English at the University of Nevada.