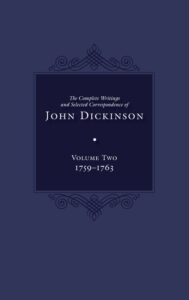 Author
John Dickinson
Editor(s)
Jane E. Calvert
Hardback
September 2021 • ISBN 9781644531600 • $49.95
* E-Book Available
Order Online
John Dickinson's entry into public life in Delaware and Pennsylvania is a highlight of the ninety-eight documents written over four years printed in Volume Two of The Complete Writings and Selected Correspondence of John Dickinson. The volume opens with Dickinson's legal notes as he established himself as one of the most prominent and learned lawyers in colonial British North America. His cases dealt with, among other issues, interpretation of wills, disputes over land, sailors suing for wages, a fine on a Quaker who refused military service, and a notorious murder in a prominent Philadelphia family. It concludes with Dickinson offering thoughtful advice to a young man who was considering the arduous work in becoming a lawyer. "I think," he wrote, "those must be infinitely the most happy, whose fatigues are softend by a conscious Benevolence of mind wishing & endeavouring to [pro]mote the Happiness of others as well as their own."
Dickinson's hard work on behalf of his clients brought him success in other areas of his public life. In October 1759, he was elected to his first public position as a representative for Kent County, Del. The following year he was elevated to the position of speaker, and in 1762, he became a representative for Philadelphia County, Pa. As a legislator in two colonies, learning his craft as a global war unfolded, he contributed to bills on military and defense, Indian relations, infrastructure improvements and city management, and served on various committees. The death of George II occasioned debates over laws and judges, in which Dickinson participated. This era concludes with Dickinson playing a central role in managing the unfolding Paxton Riots, in which frontiersmen massacred peaceful Indians and threatened the Quaker leadership of Pennsylvania.
In private, Dickinson lost the two most prominent male figures in his life in 1760, his father, Samuel, and soon thereafter, his mentor, colleague, and friend, John Moland. In honor of Moland, Dickinson published a poem and became a proxy head to Moland's large family. Though his extant correspondence during this period is small, he exchanged letters with Mary Cadwalader Dickinson, Israel Pemberton, William Allason, George Read, Thomas McKean, and others. Perhaps most significant, he wrote a lengthy, unpublished essay on the flag-of-truce trade and also maintained commonplace books as he considered his place within the British Empire, opening up the next phase in Dickinson's life as a leader of the resistance against Britain.
Published by the University of Delaware Press. Distributed worldwide by Rutgers University Press.
About the Author and Editor
Jane E. Calvert is Associate Professor of History at the University of Kentucky and author of Quaker Constitutionalism and the Political Thought of John Dickinson.
John Dickinson (November 8, 1732–February 14, 1808) is known as the "Penman of the Revolution." He served as a delegate for Pennsylvania in the Continental Congress (1774–1776) and later as a delegate from Delaware in the Constitutional Convention of 1787.
Reviews of 'The Complete Writings and Selected Correspondence of John Dickinson, Volume Two'
"
This edition of the works of John Dickinson represents long overdue scholarly and critical attention to one of the truly pivotal figures in the early history of the United States. The significance of this project is very great, both for attention to Dickinson and for the quality of the edition itself. The introduction to this edition, which covers the critical years when Dickinson's Letters from a Farmer in Pennsylvania made him a much-noticed public figure, shows that he was much more than only a significant political thinker and controversial political actor. The range of additional venues or spheres in which he exerted his influence and which are illuminated by this critical edition of his works is astonishing. Currently, the 'Founding Fathers' are far too often artificially limited. Among the other significant 'founders' who have not received nearly as much historical attention as they deserve, Dickinson stands foremost.
"
- Mark Noll, Notre Dame, author of In the Beginning Was the Word: The Bible in American Public Life