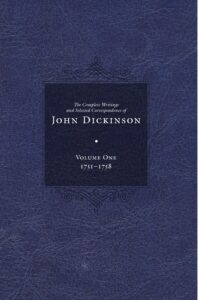 Editor(s)
Jane Calvert
Hardback
June 2020 • ISBN ISBN 9781644531839 • $45.00
* E-Book Available
Order Online
The Complete Writings and Selected Correspondence of John Dickinson, Vol. 1 inaugurates a multivolume documentary edition that will, for the first time ever, provide the complete collection of everything Dickinson published on public affairs over the course of his life. The documents include essays, articles, broadsides, resolutions, petitions, declarations, constitutions, regulations, legislation, proclamations, songs and odes. Among them are many of the seminal state papers produced by the first national congresses and conventions. Also included are correspondences between Dickinson and some of the key figures of his era. This edition should raise Dickinson to his rightful place among America's founding fathers, rivaled in reputation only by Benjamin Franklin before 1776. Dickinson was celebrated throughout the colonies, as well as in England and France, as the great American spokesman for liberty, and the documents in this edition evidence his tireless political work and unmatched corpus.
About the Editor
Jane E. Calvert is Associate Professor of History at the University of Kentucky and author of Quaker Constitutionalism and the Political Thought of John Dickinson.
Reviews of 'The Complete Writings and Selected Correspondence of John Dickinson, Volume One'
"
This edition of the works of John Dickinson represents long overdue scholarly and critical attention to one of the truly pivotal figures in the early history of the United States. The significance of this project is very great, both for attention to Dickinson and for the quality of the edition itself. The introduction to this edition, which covers the critical years when Dickinson's Letters from a Farmer in Pennsylvania made him a much-noticed public figure, shows that he was much more than only a significant political thinker and controversial political actor. The range of additional venues or spheres in which he exerted his influence and which are illuminated by this critical edition of his works is astonishing. Currently, the 'Founding Fathers' are far too often artificially limited. Among the other significant 'founders' who have not received nearly as much historical attention as they deserve, Dickinson stands foremost.
"
- Mark Noll, Notre Dame, author of In the Beginning Was the Word: The Bible in American Public Life